IAN T. SHEARN, Founding Partner
Shearn founded The Gumption Group in 2009 after 30 years in the newspaper business. His last stop was at The Star-Ledger in Newark, NJ, where, as both editor and reporter, he produced several award-winning investigative pieces, and was part of a team that won a Pulitzer Prize in 2005. He left The Ledger in 2008 after working there for 10 years. Shearn now utilizes the journalistic skills and contacts he accumulated over his years in the newspaper business. His client list is diverse and growing, providing various services for universities, non-profits, real estate firms and elected officials. He continues to pursue journalist endeavors,, freelancing for magazines, and he has completed  a short documentary film, When We Were Hela. You can see samples of his work on the home page.  Click here for his resume.
                                     JOHN BENDEL, Editor/Writer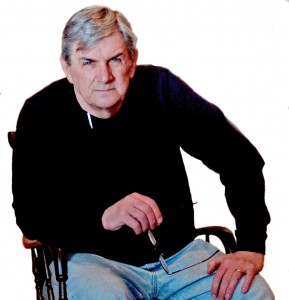 Bendel was a truck driver when he first wrote about transportation in an op-ed for The Record in 1974. He subsequently reported for the trade press on North American trucking as deregulation  beginning in 1980. Bendel has created marketing materials for motor carriers as well as for seagoing Crowley Maritime Corporation, and his transportation essays have appeared in The New York Times, The Washington Post, and the Star-Ledger among other papers. His industry reporting has appeared in Crain's New York Business as well as in Heavy Duty Trucking Magazine, where he was senior editor for nine years covering Washington, D.C. and the technology revolution. Bendel was also an editor at National Lampoon and editorial page editor of the Herald News.
TONI MARI CODD, Director of Graphic Design
Codd has been in the graphics design business for over 30 years. She is currently the art director for the Recorder Community Newspapers, a family owned group of 17 publications, where she has won numerous design awards for her work. Codd started her career in an advertising agency with razors and glue, and now has become adept at computer-generated, print-ready creative product. From there, she moved to the newspaper industry, working for five years at the Courier-News in Bridgewater, NJ. Codd also has a private clientele for whom she performs a broad spectrum of design projects. Her work spans a wide range of creativity, from logo design to wall murals.
GARY GARB, Director of Web Development & Training
Before retiring from industry in 1999, Garb was Director of Computer Security for Unisys Corp., responsible for creating and enforcing security policies and providing security methods and tools to over 32,000 employees in almost 200 sites in over 50 countries. To facilitate this effort, Garb implemented one of the first websites on the company intranet in 1996. After retiring, he formed a web design business, Telarian Webs, and has built and currently maintains over 20 commercial sites. Telarian Webs is now part of The Training Help Desk, a partnership with his wife, consulting on training strategies, course design, and development of interactive courseware. Garb has worked for Cigna, Merck & Co., and Unisys, managing software engineering projects and training software engineers and managers in development methodologies, project management, and quality engineering. He has also taught computer science at the graduate and undergraduate levels.
DAVE FASANO, Director of Videography and Photography
For over twenty years, Fasano has been the principal of New York-based Blaze Productions and Focustream, which has expanded its production capabilities to include live and on-demand streaming and Flash video production. Fasano's accomplishments include a long list of quality corporate and commercial productions. His producing credits include documentaries, music videos, commercials, television shows and industrial films. Fasano is currently producing and directing a documentary entitled Defying Apartheid; The Space Theatre Story, In 1990, Fasano produced the mini-documentary Tito Puente, The Mambo King for RMM Records, which celebrated the salsa legend's 100th record. He has also spearheaded a variety of productions in Canada, South Africa, Mexico, the Caribbean, Tunisia and Fiji.
ROBIN GARB, Director of Marketing & Promotion
Garb is a senior account executive with MadeToOrder, a promotional marketing firm. Robin came to that industry after a successful career in the entertainment business. During the mid-70s Garb produced records, concerts, and managed recording artists on the east coast. He was music consultant for the first Rocky movie and then music supervisor and executive album producer for Rocky III and Rocky IV. He was senior VP of music for film and TV at the Walt Disney Co. and then president & COO of Sylvester Stallone's White Eagle/MGM Films. He discovered the promotional marketing industry quite by accident. While attending an electronics show in 1989 he was handed a unique badge giveaway item that he felt would be great for entertainment marketing. He immediately acquired patent and marketing rights and started a promotional product manufacturing company. Within the first eight months, his company, Creative Imaging, sold a $2.3 million order for chain retail franchise promotion.